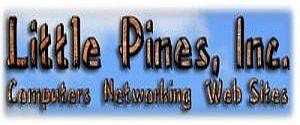 We provide:

New and used computers, servers, laptops.

Infrastructure, networked devices, cabling.

Web sites, on-line applications, software development.

Business IT consulting and management.

Fore more info, check out our web site.


Welcome to Little Pines, Inc. Computers, Networking, and Web Sites
We serve the Star Valley, Wyoming area bringing to them the highest quality new and used computers, network engineering, web site design and hosting, computer repair, and seminars and classes. No one in the area (or anywhere, for that matter) can beat our quality.
Our flagship product is our SAW (Self-Administrating Web) site content management system (CMS).
Our SAW control panel has the HTML editor right on line. All you do is log in to your web site (from anywhere you have a computer and an internet connection), edit your page, save the changes, and the page is dynamically and instantly changed for all visitors.
Look no further for the best in mobile-friendly, fully responsive and adaptive web sites, based on the BootStrap platform and ColdFusion code. And we have more plug-ins in our default WordPress CMS than many others can even offer at all.
Check out our Client Design Gallery to see some of the fantastic, high-end designs we have done. Visit our On-Line Applications page to see some of the custom on-line apps and databases we've done. Whatever you want your web site to do - we can make it do!
We also do on-line applications and databases, shopping carts, special modules and integrations, and Flash or Slide-Show banners and menus. The sky is the limit with us! Finally you can have a web site that is just as professional as any large company - at a fraction of the cost.
Please call or Email us for an on-line demonstration and tour. We can show you our web site capabilities and products over the phone with you in the comfort of your office or home!
For more info,
go to our web site.